Premium collection on sale!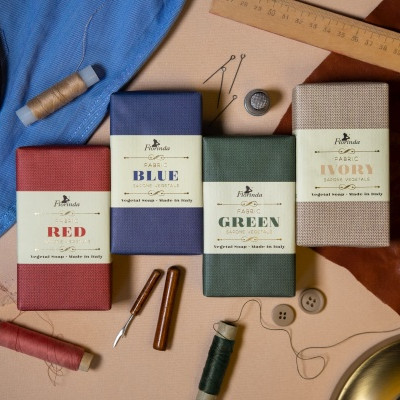 The new collection of Florentine perfumed soap "Italian fabrics" is not just a luxury premium line of soap, it is the embodiment of the cultural traditions of Italy.
A truly talented perfumer like a talented artist can not only invent new things and create from scratch. People of art who are really in love with their work are able to display the hidden beauty of things familiar to us, to emphasize what we do not notice at all.
The inspiration for the new collection of perfumed soap was fabrics: another pride of Italy, along with many other traditional Mediterranean artisan products. Italian pieces of silk and velvet rightfully considered one of the best in Europe in the hands of skilled tailors turned into the robes of kings and luxurious dresses of empresses, into gold-embroidered tapestries and cassocks of Roman cardinals. Luxurious, memorable and majestic images inspired Florinda perfumers to create four fundamentally new fragrances.
The collection "Italian fabrics" has no analogues not only among Florinda fragrances, but also among the entire world variety of soaps in general. Complex, deep, multifaceted aromas captivate, turning even everyday hand washing into an event, forcing you to listen to the notes of the perfume composition again and again in an attempt to unravel their incomprehensible secrets.